List of Top 10 Antoni Gaudi Works
Antoni Gaudi (1852-1926) is probably the most famous and admired Catalan architect. He was the leading figure of the so-called Modernisme or Catalan Modernism (a Catalan equivalent to Art Nouveau) although his greatest works reflect a unique style that transcended individual architectural styles and movements. Most of his greatest works were built in or near Barcelona, while as many as 7 have been recognized as UNESCO World Heritage Sites. All are included in the list of top 10 Antoni Gaudi works below.
Sagrada Familia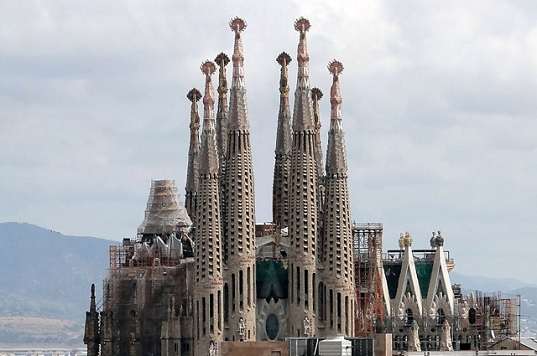 The most famous of all Gaudi's works has been under construction since 1882. The famed architect took over the construction of the Sagrada Familia (Spanish for "Holy Family") one year later but he didn't live to see his masterpiece completed. In fact, less than one third of the church was completed by the time of his death in 1926. It is scheduled to be finally completed on the 100th anniversary of the architect's death in 2026. In 2005, the Sagrada Familia was declared a World Heritage Site.
Casa Mila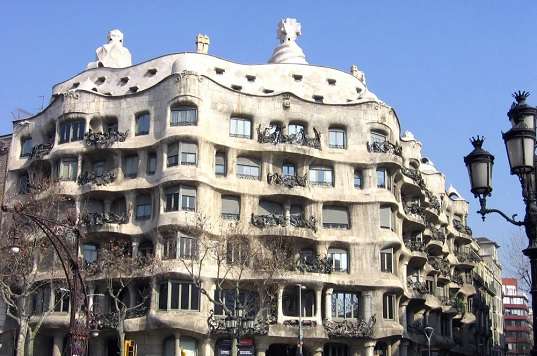 Also known as La Pedrera, Casa Mila is one of the best examples of the architect's creativity. A part of the original UNESCO World Heritage Site of "Works of Antoni Gaudi" since 1984, the house was built for Pere Mila i Camps and Roser Segimon i Artells between 1906 and 1912. Today, it is home to the Fundacio Catalunya-La Pedrera which organizes a range of exhibitions and public activities but the building is also open to the public for viewing.
Park Güell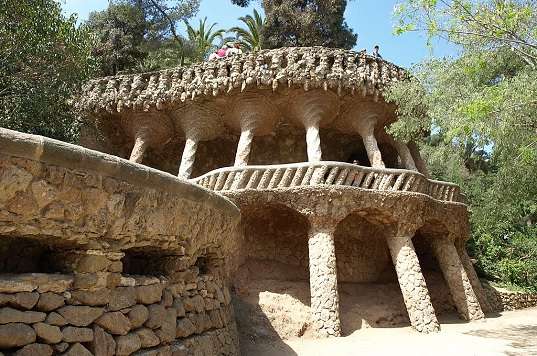 Created between 1900 and 1914 for Catalan businessman Eusebi Güell, the Park Güell is one of the most famous and beautiful public parks in the world even though it was never completed. It was conceived as a part of a housing development in Barcelona which, however, was a failure. The site which features original Gaudi's sculptures, mosaics and various structures - all blending in perfectly with the natural surroundings - was eventually acquired by the city of Barcelona and opened to the public. In 1984, it was recognized as a World Heritage Site.
Casa Batllo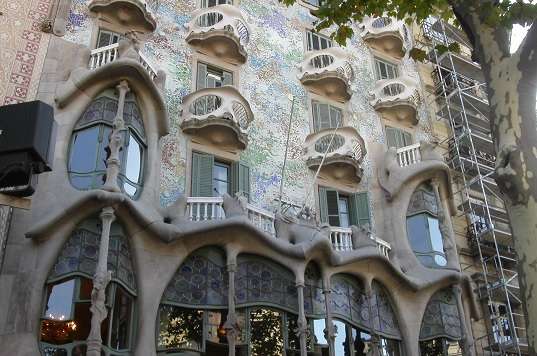 Also referred to as the "House of Bones" (Catalan: Casa dels ossos), Casa Batllo wasn't actually built by the celebrated architect. However, it was Gaudi who made it one of the most famous building in Barcelona. In 1904, he was hired by Joseph Batllo to redesign his home and make it stand out. In 1906, Gaudi completed what became one of his most spectacular works, while Mr. Batllo got exactly what he wanted - an eye catching building in at the time very trendy and prestigious part of Barcelona. In 2005, Casa Batllo became a part of the extended UNESCO World Heritage Site of "Works of Antoni Gaudi".
Church of Colonia Güell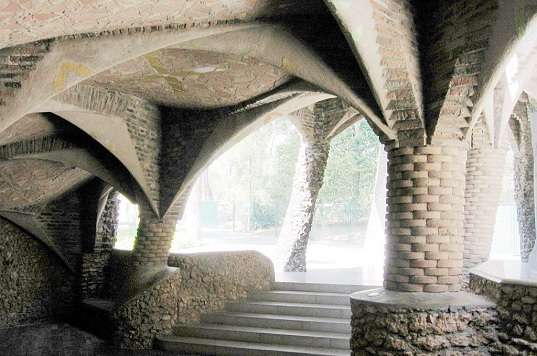 The Church of Colonia Güell is actually a crypt that was built according to Antonio Gaudi's design between 1908 and 1914. The original plan for the church that was intended for the workers in Santa Coloma de Cervello was abandoned because its commissioner, Eusebi Güell, ran out of money before the Catalan architect was able to complete it. Nevertheless, in 2005 UNESCO recognized the crypt as a World Heritage Site.
Episcopal Palace of Astorga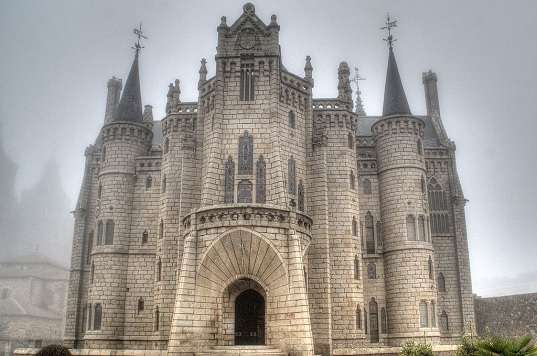 The Episcopal Palace of Astorga in the province of Leon, Spain, is one of most famous Gaudi's works outside Catalonia. It was built between 1889 and 1913 but Gaudi worked on its construction only until 1893 when he withdrew from the project due to disagreements with the city authorities. Though the Palace was mostly completed, the construction continued only in 1907 when architect Ricardo Garcia Guereta picked up where Gaudi left off. Guereta considerably modified the original Gaudi's plan but he left the works completed by the Catalan architect - virtually the entire structure with the exception of the roof - largely intact.
Güell Palace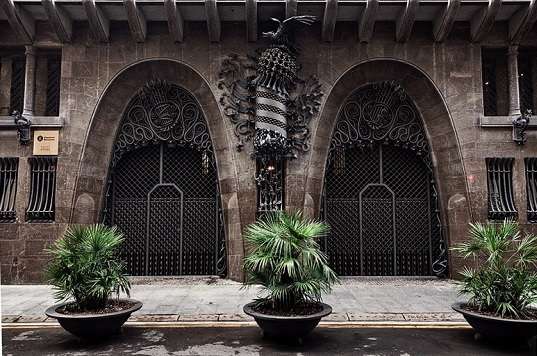 Gaudi built the Güell Palace, one of his first works and one of his greatest masterpieces in the late 1880s. It was commissioned by one of Gaudi's greatest admirers - the industrialist Eusebi Güell who used it as his residence for about two decades before moving to a house in Park Güell. Just like the latter, the Güell Palace was eventually acquired by the city of Barcelona. In 1984, the Palace became one of the first three Gaudi's works to be declared a World Heritage Site.
Casa de los Botines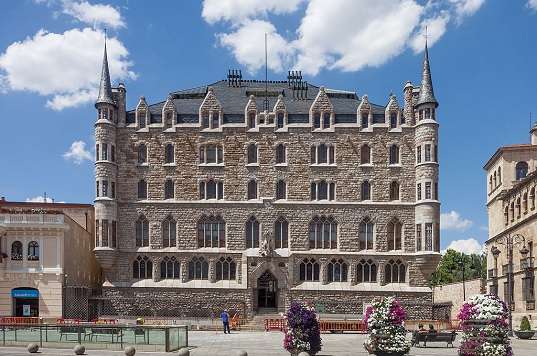 Casa de los Botines, also known as Casa Fernandez y Andres is a spectacular building in Leon in the Spanish province of Leon. Built according to Gaudi's design in less than a year in 1891, the building was commissioned by Simon Fernandez and Mariano Andres, owners of a company that worked with Eusebi Güell (who recommended the famous architect to Fernandez and Andres). In the late 1920s, Casa de los Botines was bought by the bank Caja Espana which had it remodeled to suit its needs but didn't alter or change Gaudi's work in any way.
Casa Calvet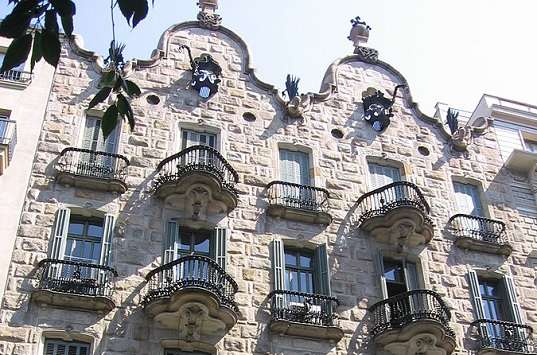 Casa Calvet stands out from Gaudi's works. But it doesn't stand out with a unique, original or/and innovative design. Instead, it stands out for being kind of conventional and according to some, conservative for Gaudi's standards. The building which was designed as part residential and part commercial property does feature distinctive "Gaudi's touch" but it blends in with other buildings in the district rather than standing out from the "crowd". Casa Calvet was built for the industrialist Pere Calvet between 1898 and 1900.
Casa Vicens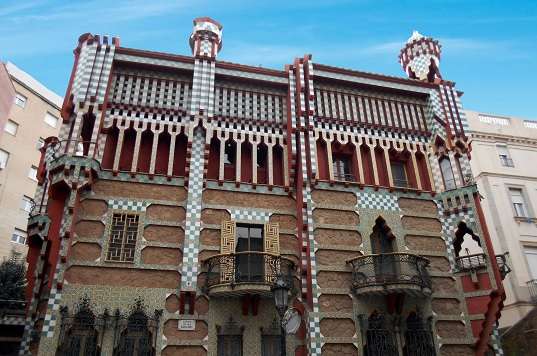 Casa Vicens, one of Gaudi's first major works is also one of his most spectacular creations. Built as a residential building for the entrepreneur Manuel Vicens between 1883 and 1889, Casa Vicens has served as a private residence ever since. It changed its owners several times, most recently in March 2014 when it was bought by MoraBanc group which pledged to renovate and open it to public as a museum. In 2005, Casa Vicens became one of four Gaudi's buildings that were added to the UNESCO World Heritage Site of "Works of Antoni Gaudi".