List of the 6 Mitford Sisters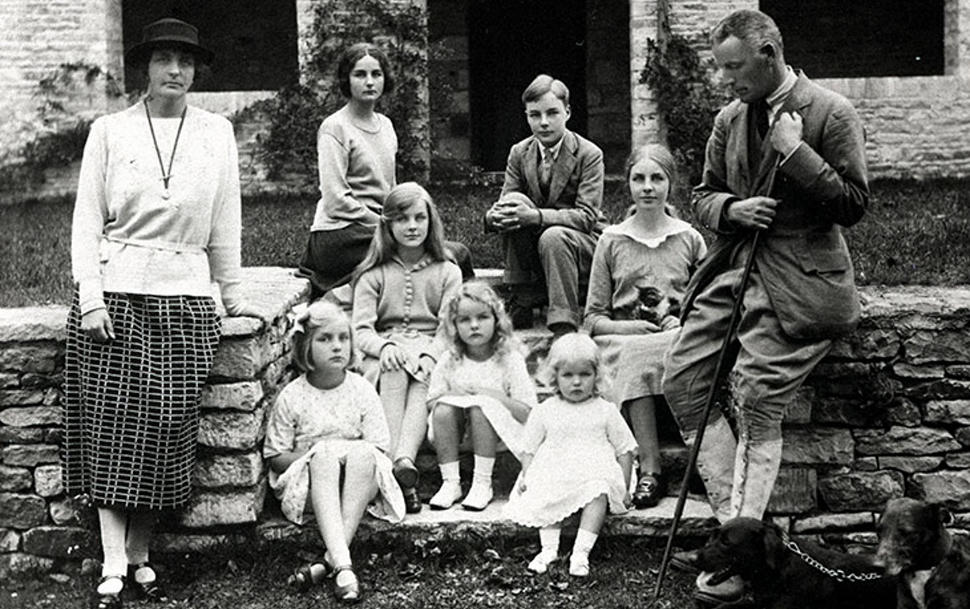 Also known as the Mitford girls, the 6 Mitford sisters were highly controversial daughters of David Freeman-Mitford, 2nd Baron Redesdale (1878-1958) and his wife Sydney Bowles (1880-1963). Their eccentric lifestyles, ideas and in particular, their political views and activities attracted a lot of attention of the British public that was both shocked and inspired by one of the most famous and talked about families of the 20th century.
Nancy (1904-1973)
Nancy was the oldest of the Mitford sisters. She was a very popular novelist and biographer who, however, is best remembered for the controversial concept of the so-called "U" and "Non-U" English. According to the latter, there is a distinction between the vocabulary of the upper ("U") and non-upper ("Non-U") classes. Even though Nancy didn't "invent" the concept and allegedly used it in her essay The English Aristocracy only as a joke, she angered a lot of people who took the issue to heart. The essay which first appeared in the Encounter magazine in 1954 was also included in the book Noblesse Oblige: An Enquiry Into the Identifiable Characteristics of the English Aristocracy (1956). Other notable works by the oldest of the Mitford girls include The Pursuit of Love (1945), Love in a Cold Climate (1949) and Don't Tell Alfred (1960).
Pamela (1907-1994)
Known to the public as the "Quiet Mitford", Pamela was relatively uninteresting the tabloids. In comparison to her sisters, she lived a very quiet life. She took the traditional "female tasks" such as housekeeping very seriously which is why her sister Nancy liked to call her "Woman". However, her life was everything but boring. She had quite a few adventures while traveling around Europe with her Morris Minor and was one of the first female passengers on a transatlantic commercial flight. Also, the "Quiet Mitford" was married to the extraordinary physicist Derek Jackson (1906-1982) who was quite extraordinary in his personal life as well. In 1951, however, she divorced Jackson and spent the rest of her life with her female companion Giuditta Tommasi. Despite the rumors that she was lesbian, it seems that her relationship with Tommasi didn't go beyond friendship.
Diana (1910-2003)
At one time one the most hated women in Britain, Diana wasn't only despised by the public but she also raised red flags with the British authorities. During World War II, she was even imprisoned as a threat to her country. In 1936, Diana left her wealthy husband Bryan Walter Guinness (1905-1992) for the leader of the British Fascists, Sir Oswald Mosley (1896-1980) whom she married in the same year at the home of Joseph Goebbels in Berlin. First jailed at the Holloway Prison and then placed under house arrest, Diana and her husband were released after the end of the war. Shortly thereafter, they moved to Paris where they lived until the rest of their lives. Neither Diana nor her husband ever apologized or expressed any regret for their fascist political views and connections with the Nazis including Hitler personally.
Unity (1914-1948)
Another Mitford girl who became infamous for her links to Fascism and Nazism, Unity or "Bobo", as she was called by her sisters, tried to commit suicide when Britain declared war on Germany. A passionate admirer of Hitler who described the day she met the Nazi leader as the most beautiful in her life, she supposedly couldn't bear the thought of the two countries taking up arms against each other. "Bobo", who was at the time of the British declaration of war on Germany in Munich, took a pistol and shot herself in the head. She survived the suicide attempt but never fully recovered. She died in 1948 from cerebral swelling that developed around the bullet that remained in her head from that day.
Jessica (1917-1996)
Even though she shared a room with Unity, Jessica or "Decca", as she was called by her family and friends, didn't share her fascination with Nazism. On the contrary, she was a committed Communist. When she was only 19, she eloped to Spain with Winston Churchill's nephew Esmond Romilly (1918-1941) who, just like her, was an avid Communist. Shortly after the outbreak of World War II, they emigrated to America but Esmond soon volunteered to the Royal Canadian Air Force and got killed in action in 1941. "Decca" remarried two years later with the American lawyer Robert Treuhaft (1912-2001). Until 1958, both were active members of the Communist Party USA. Besides for her radical-left political views and activities, "Decca" is also remembered as the author of several best-selling books, with the most famous being Hons and Rebels (1960) and The American Way of Death (1963).
Deborah (1920-2014)
Also known as "Debo", Deborah was the youngest of the Mitford girls. She was married to Andrew Cavendish, 11th Duke of Devonshire (1920-2004) who was very active in politics, serving as Mayor of Buxton (1952-54), Under-Secretary of State for Commonwealth Relations (1960-62) and Minister of State for Commonwealth Relations (1962-64). But unlike her husband and her older sisters, "Debo" wasn't interested in politics although she knew many high ranking politicians including Winston Churchill and John F. Kennedy. She once also had tea with Hitler but according to her later accounts, she wasn't impressed. In her later life, "Debo" wrote several books including the autobiography Wait For Me! Memoirs of the Youngest Mitford Sister (2010), telling her side of the story about her siblings and other interesting people she had met over the years.