Seven Deadly Sins
The seven deadly sins are a classification of the most severe sins, according to the Catholic Church. The list of vices is called deadly because, according to the Church, they can deprive us of divine grace and lead to the eternal condemnation of the human soul, unless forgiveness is granted through the confession of sin. In the Divine Comedy by Dante Alighieri, the seven deadly sins are punished in the Circles of Hell and purged in the Levels of Purgatory. The generally referred to seven deadly sins are lust, gluttony, greed, sloth, wrath, envy, and pride.
Lust (Luxuria)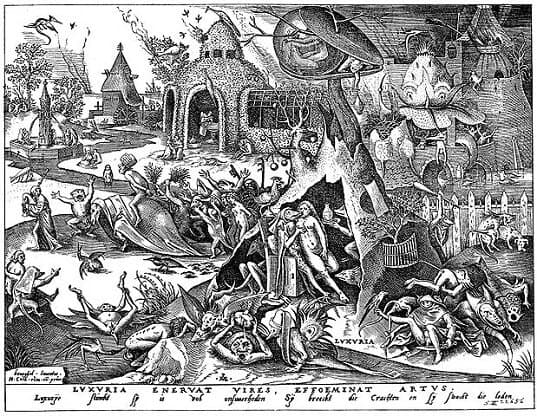 Lust is defined as a strong desire for something or someone. In the religious view, lust necessarily implies spiritual blindness and one of the seven deadly sins from which other sins arise.
Lust Bible Verses
Matthew 5:28 But I say to you that everyone who looks at a woman with lustful intent has already committed adultery with her in his heart.
James 1:14-15 But each person is tempted when he is lured and enticed by his own desire. Then desire when it has conceived gives birth to sin, and sin when it is fully grown brings forth death.
2 Timothy 2:22 So flee youthful passions and pursue righteousness, faith, love, and peace, along with those who call on the Lord from a pure heart.
Gluttony (Gula)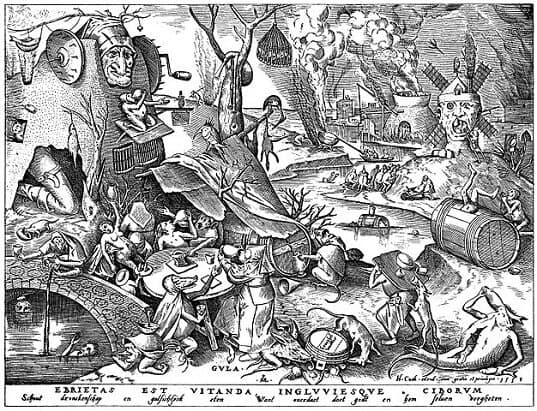 Gluttony refers to a symptom of one to consume excessive amounts of food or drink. In Christianity, it is considered one of the seven major sins because, during the Middle Ages, misery and hunger were widespread. Thus wasting food is also considered a kind of gluttony.
Gluttony Bible Verses
Proverbs 23:19-21 Hear, my son, and be wise, and direct your heart in the way. Be not among drunkards or among gluttonous eaters of meat, for the drunkard and the glutton will come to poverty, and slumber will clothe them with rags.
Psalm 78:17-19 Yet they sinned still more against him, rebelling against the Most High in the desert. They tested God in their heart by demanding the food they craved. They spoke against God, saying, "Can God spread a table in the wilderness?
Proverbs 25:16 Hast thou found honey? eat so much as is sufficient for thee, lest thou be filled therewith, and vomit it.
Greed (Avaritia)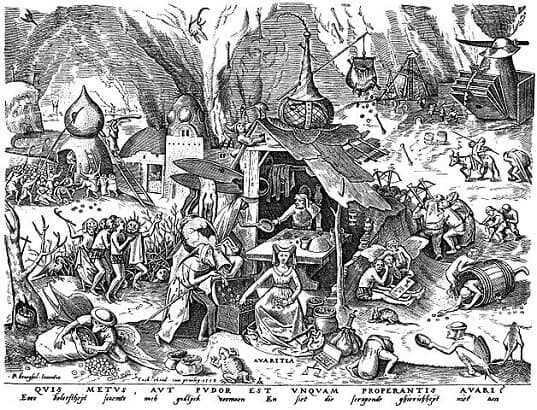 Greed is defined as an extreme or insatiable longing, especially for wealth, status, and power. Generally considered the second most serious of the seven deadly sins because it can influence people in such a way that its practitioners reach the point of corrupting others and letting themselves be corrupted, manipulated, and deceived.
Greed Bible Verses
1 Timothy 6:9-10 But those who desire to be rich fall into temptation, into a snare, into many senseless and harmful desires that plunge people into ruin and destruction. For the love of money is a root of all kinds of evils. It is through this craving that some have wandered away from the faith and pierced themselves with many pangs.
Hebrews 13:5 Keep your life free from love of money, and be content with what you have, for he has said, "I will never leave you nor forsake you."
Luke 12:15 Then he said to them, "Watch out! Be on your guard against all kinds of greed; a man's life does not consist in the abundance of his possessions."
Sloth (Acedia)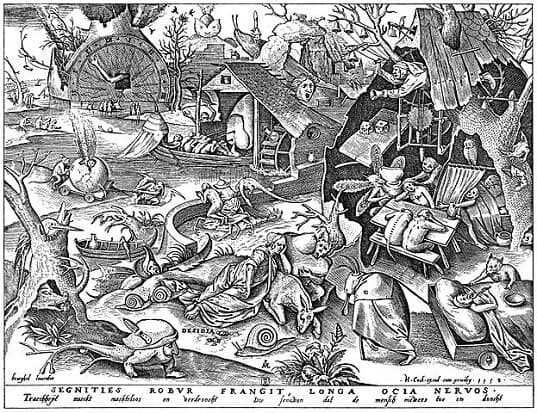 Soth is generally characterized by a person who neglects important obligations and has an unwillingness to work. The Catholic Church presents sloth as a capital sin expressed as a waste of the time that God has given us for our lives.
Sloth Bible Verses
Romans 12:11 Do not be slothful in zeal, be fervent in spirit, serve the Lord.
2 Thessalonians 3:10 For even when we were with you, we would give you this command: If anyone is not willing to work, let him not eat.
Proverbs 12:27-28 A lazy hunter does not catch his prey, but a hard-working person becomes wealthy. Everlasting life is on the way of righteousness. Eternal death is not along its path.
Wrath (Ira)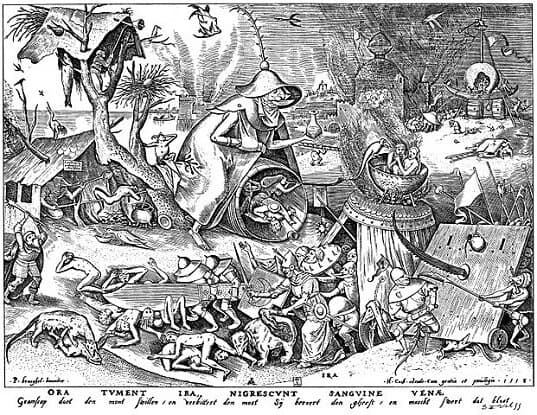 Wrath, also regarded as anger, is defined as uncontrolled feelings of hatred, revenge, or punitive desires towards something or someone. It is classed as a mortal sin, as it can lead to violence and murder. Dante described it as "distorting the love of justice into revenge and hatred."
Wrath Bible Verses
Psalm 37:8 Refrain from anger, and forsake wrath! Fret not yourself; it tends only to evil.
Proverbs 15:1 A soft answer turns away wrath, but a harsh word stirs up anger.
James 1:19 My dear brothers and sisters, take note of this: Everyone should be quick to listen, slow to speak and slow to become angry
Envy (Invidia)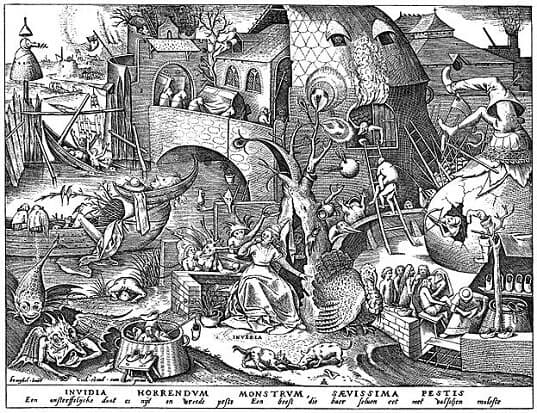 Envy is to wish you had something that someone else has. Those who sin envy continue to grumble and want to deprive others of it. Dante says that "jealousy for our own well-being is perverted to deprive other men of their well-being."
Envy Bible Verses
Psalm 37:1 Of David. Fret not yourself because of evildoers; be not envious of wrongdoers!
Psalm 37:1-3; "Fret not yourself because of evildoers; be not envious of wrongdoers! For they will soon fade like the grass and wither like the green herb. Trust in the LORD, and do good; dwell in the land and befriend faithfulness."
8. 1 Corinthians 13:4; "Love is patient, love is kind. It does not envy, it does not boast, it is not proud."
Pride (Superbia)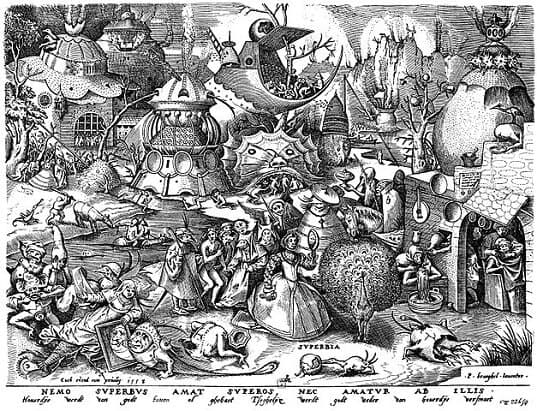 For the Roman Catholic Church, pride is the exaggerated feeling of one's own worth and believes himself superior to others. This deep-rooted conviction of one's superiority manifests into an attitude of arrogant detachment or even an ostentatious contempt towards others. According to Thomas Aquinas, pride is "an unordered pursuit of self-excellence."
Pride Bible Verses
James 4:6 But he gives more grace. Therefore it says, "God opposes the proud but gives grace to the humble."
Proverbs 18:10–12 The name of the LORD is a strong tower; the righteous man runs into it and is safe. A rich man's wealth is his strong city, and like a high wall in his imagination. Before destruction a man's heart is haughty, but humility comes before honor.
Proverbs 11:2 When pride comes, then comes disgrace, but with humility comes wisdom.