List of 12 Ancient Greek Gods and Goddesses
Ancient Greek religion and mythology recognized a number of deities but the most venerated gods and goddesses were the so-called Twelve Olympians who were believed to live atop of Mouth Olympus. Each of them had their own domain, special set of powers and a unique character which was, interestingly, very human-like. In general, the Twelve Olympians were benevolent and often assisted the mortals but they could also be very cruel, unforgiving, vindictive, perfidious and plain immoral. The list of 12 ancient Greek gods and goddesses below doesn't include the god of the underworld, Hades. Even though he was one of the principal deities in ancient Greek religion and mythology, Hades is generally excluded from the "Big Twelve" because he resided in the underworld and never visited his "relatives" atop of Mouth Olympus.
Zeus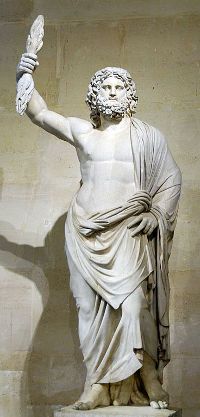 Zeus, the god of the sky and thunder was the most powerful of the Twelve Olympians who recognized him as their king. He was the son of Cronus, the king of the Titans and his wife and sister Rhea who saved baby Zeus from being devoured by his father by giving Cronus a stone that was wrapped in swaddling clothes. After growing up, Zeus overthrew his father and started a new pantheon of deities with the Olympians as the chief gods and goddesses. He was married to his sister Hera with whom he had several children. But the "King of the gods" also fathered many "illegitimate" children, with both divine and mortal women. Some of the most famous "products" of Zeus' innumerous extramarital affairs include Heracles, Minos, Perseus, Artemis, Hermes and Dionysus, to mention just a few.
Hera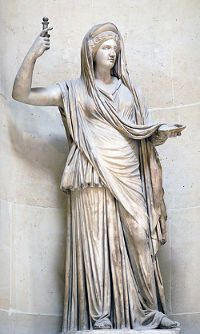 Zeus' wife and sister Hera was the goddess of marriage and family. Also worshiped as the protectress of women, Hera was notorious for being extremely jealous and taking it out on Zeus' lovers (and often also on their children) for her husband's infidelity. When she found out about Zeus' affair with the Libyan queen Labia, she killed her rival's children and turned her into a child-eating demon. Leto, another Zeus lover was barred from giving birth to Apollo and Artemis on land. To get rid of Dionysus' mother Semele, Hera persuaded her to demand from Zeus to come to her in his divine form which which would kill her. However, the queen goddess is perhaps best known for her on-going harassment of Heracles whom she tried to kill on several occasions.
Poseidon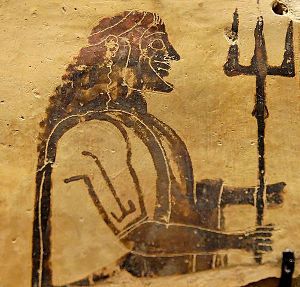 Traditionally represented holding a trident, Poseidon was the ancient Greek god of the sea but he was also the god of earthquakes and horses. One of two Zeus' brothers (the other being Hades), Poseidon spent most of the time in his underworld palace on the bottom of the ocean and riding the waves. But unlike Hades who never visited the highest mountain in Greece, the god of the sea occasionally also resided atop of Mount Olympus. He was married to the Nereid (sea nymph) Amphitrite but he also had children with "other women". He is thought to be the father of mythological heroes such as Theseus and Pelias but he also fathered some bizarre creatures including the cyclops Polyphemus, giants Otus and Ephialtes, and winged horse Pegasus.
Athena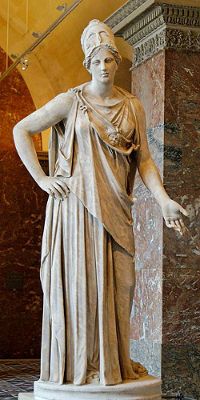 Athena, the goddess of wisdom, reason, war, and arts and crafts was born from Zeus' head. She was the offspring of Zeus and Metis who would get swallowed by the "King of the gods" because she had been prophesied to give birth to very powerful children - powerful enough to challenge Zeus himself. Indeed, the perpetually virginal Athena had great powers but she didn't use them against her father. On the contrary, she was one of Zeus' most loyal servants. Known for helping many heroes including Perseus, Odysseus, Jason, Heracles and others, the goddess of wisdom was especially popular in Athens where she was also worshiped as the city's patroness. In the 5th century BC, the Parthenon was built in her honor on the Athenian Acropolis, overlooking the city ever since.
Demeter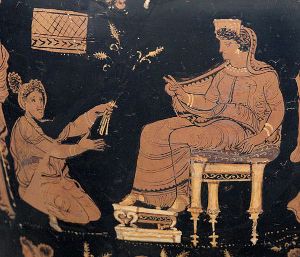 Demeter was the goddess of agriculture, grain and harvest who is perhaps best known as the mother of Persephone by Zeus. When Persephone was abducted by Hades and taken to his underworld kingdom, Demeter wandered the earth day and night in search of her daughter, completely neglecting the earth. As a result, the crops had failed and famine began to spread around the world. Concerned over a growing threat of human extinction, Zeus urged Hades to release Demeter's daughter. He agreed to return Persephone to her mother but he required for her to spend one third of the year in the underworld which would create the cycle of the seasons. When Persephone reunited with her mother Demeter, plants would shoot from the ground. But as she withdrew to the underworld, vegetation withdrew as well.
Ares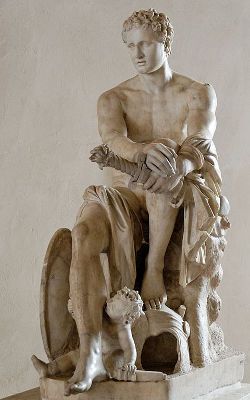 The ancient Greek god of war, Ares was the son of Zeus and Hera. Unlike his Roman counterpart Mars, he wasn't particularly popular with the ancient Greeks - with the exception of the Spartans. They looked up to him as an exemplary warrior and even offered human sacrifices to him. Elsewhere, he was rather associated with violence, brutality and bloodshed but he was also known for his affair with the goddess of love and beauty Aphrodite. Several children were born from this union including the twin brothers Phobos (fear) and Deimos (terror), Harmonia and Eros. But he also fathered children with "other women" including Enyo (the goddess of war and destruction), Otrera (the Queen of the Amazons) and Calliope (muse of epic poetry), to name just a few.
Apollo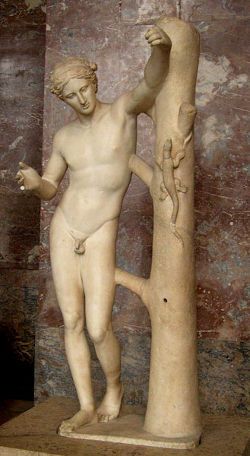 Apollo, the god of music, poetry, the sun, prophecy and medicine was the son of Zeus and Leto who gave birth to him and his twin sister Artemis on the island of Delos. The ancient Greeks built a number of temples in honor of Apollo, with the most famous one at Delphi. Dating back to the 6th century BC, the Temple of Apollo at Delphi was visited from all over Greece to consult the priestesses Pythia whose prophecies were believed to be inspired by Apollo himself. Like most other Olympians, Apollo was also known for his many love affairs and children who were born from his unions with both divine and mortal women. Besides female lovers, however, Apollo also had romantic relationships with men, with the best known being Hyacinth and Cyparissus. After their death, Apollo had them transformed into a flower and tree (Cypress), respectively.
Aphrodite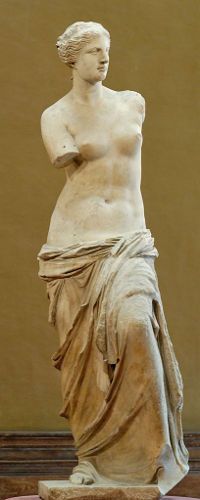 Aphrodite, the goddess of love and beauty was born out of the foam that was created by Uranus' cut off genitals when thrown into the sea by Cronus. According to Homer, however, she was the daughter of Zeus and the Titaness Dione. She was married to the god of fire Hephaestus which, however, didn't stop her from getting romantically involved with "other men". Best known for her relationship with Ares which produced several children, Aphrodite also had other lovers, both divine and mortal. By offering Paris the most beautiful woman in the world, Helen of Sparta, in return for awarding her the Apple of Discord, Aphrodite shared a great deal of responsibility for the Trojan War. The latter was provoked by Paris' abduction of Helen who was married to King Menelaus of Sparta.
Artemis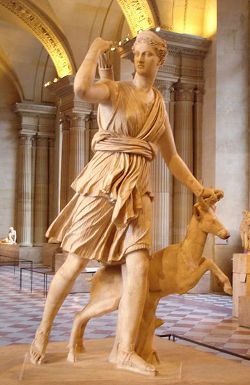 Artemis was the daughter of Zeus and Leto and Apollo's twin sister. She was venerated as the goddess of hunt, wildlife and chastity but she was also known for her wrath and vengeance. One of the most famous victims of her wrath was the Theban hero Actaeon who died a horrible death just because he had accidentally seen her bathing naked. The infuriated goddess turned him into a stag which in turn would get torn apart by his own hounds. Siproites, another man who saw her naked while she was bathing, on the other hand, was turned into a woman. In addition to insults to her chastity, Artemis was also extremely sensitive to remarks involving her hunting skills. In some versions of the myth of Adonis, the goddess sent a wild boar to kill him because he was boasting that he was a better hunter than her.
Hermes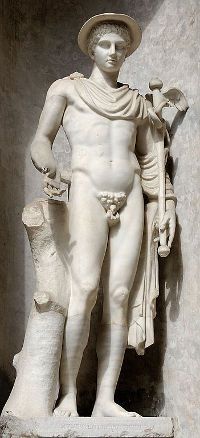 Best known as the messenger of the gods, Hermes was the son of Zeus and Pleiad Maia. However, he was also the god of commerce, patron of travelers and the conductor of the dead souls into the underworld. He often appears in ancient Greek myths, usually to help the heroes including Heracles, Odysseus, Perseus and others. Just like other male Olympians, Hermes fathered many children with many different women. His relationship with Aphrodite produced a very handsome son Hermaphroditus who would get merged with a water nymph into an androgynous being with both male and female characteristics. Hermes was also believed to have fathered Pan (half-man, half-goat god of shepherds), Odysseus' grandfather Autolycus, divine hero Myrtilus and others.
Hephaestus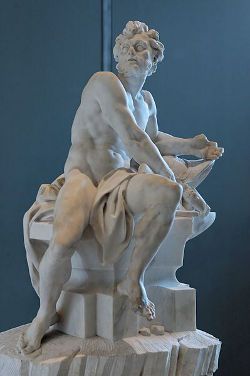 Hephaestus, the god of fire and metalworking was the son of Zeus and Hera. According to some accounts, however, he was conceived by Hera alone. Ashamed that he was born lame, Hera threw him down from Olympus. According to another explanation of his lameness, the latter was acquired when was thrown down from Olympus by Zeus for intervening in his quarrel with Hera on her behalf. But in both versions, Hephaestus makes it back to Olympus. To revenge to his wife Aphrodite who cheated him with Ares, he entrapped the adulterous lovers in a fine metallic net and showed his "catch" to other gods who laughed at Ares' and Aphrodite's shame. Besides with Aphrodite, Hephaestus was also associated with other beautiful women including the Charis Aglaea who bore him several children.
Dionysus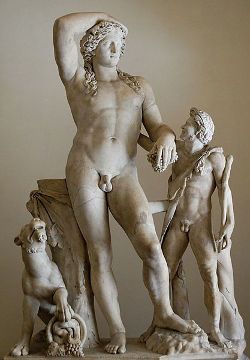 Dionysus was the god of wine, ecstasy and fertility. He was the son of Zeus and the Theban princess Semele whose love affair didn't go unnoticed by Hera. The jealous goddess told Semele to ask Zeus to show himself to her in his divine form as a proof of his love. The princess who was already pregnant with Dionysus fell for Hera's trick and died upon the sight of Zeus' splendor. The "King of the gods" managed to save the unborn Dionysus and sewed him into his thigh to protect him until being ready to be born. The only Olympian with a mortal mother was the last to join other gods on Mount Olympus although he preferred to travel around the world with his faithful followers, largely consisting of Satyrs and Maenads.